Privacy Policy
General
This Terms & Condition Applicable for use www.instaship.online website. These Terms effective from 01/04/2022
These Terms are legally binding document between M/S Shopingcart Retail Service , Brand Name "Instaship" (hereinafter referred to as "us", "we", or "Company" or "Instaship") and the users (hereinafter referred to "User" /"You" /"Your" / "Yourself"/ "Merchant"). These terms will be effective upon your acceptance of the same from your designated electronic mail address or in any other form of electronic record including, if applicable or provided, clicking on the check box of "I Agree" / "Accept" button or by any other means which construe your acceptance of these Terms
Please read our Policy or terms & Condition carefully. If your are do not agree with our Policy or terms & Condition please do not use this platform.
About Us
www.instaship.online is automatic shipping gateway owned by M/S Shopingcart Retail Service , Its registered office address , 658/A GT Road , Serampore , Hooghly , West Bengal , Pin Code – 712201 and 2nd Office Address - 3rd Floor FL403, 20, Arabinda Road,Konnagar, Hooghly, West Bengal, 712235
User / Customer Information Required
We collect below mentioned following information from User / Customers for provide our services
Full Name
Email Address
Contact No
Full Address
Password (User Created)
Company Information

For Individual / Sole Proprietor

Bank Account Details, Pan Card, Adhaar Card or Driving License Or Passport Bank Account Details (COD Remittance Purpose),

For Company (partnership)

Company Bank Account (COD Remittance Purpose) , Company Pan Card , Company GST Certificate

For Company (Pvt Ltd , Public Ltd)

Company Bank Account (COD Remittance Purpose) , Company Pan Card , Company GST Certificate , Company ROC Certificate
Use of Information
We store user data only to the extent necessary to provide one or more services. By providing your information, you consent to the collection, sharing, disclosure and use of your information by in accordance with this Privacy Policy. The information collected by may be used for various business and/or regulatory purposes, but not limited to below mentioned purpose.
Registration of the User In Our Platform
Sending User consignment status updates to the User and its customers.
Effectively Transaction with users and billing for services provided by us
Developed & Customization of our platform for the purpose of quality upgrading of our services
Delivery of targeted as well as non-targeted advertisements by the Company to the User
Research and development for User Service (conducting user surveys)
Verification of identity of Users and to perform checks to prevent frauds
Investigating, enforcing, resolving disputes and applying our Terms of Use and Privacy Policy, either ourselves or through third party service providers.
To comply with applicable rules & legal requirements and our various policies/terms
Any other purpose that may be necessary to provide the Services that you have opted from us.
Disclosure and Transfer of User's Personal Information
We may disclose/transfer Users' personal information to certain third-party service providers in order to provide Users with services of their choice.
We may disclose/transfer users' personal information to governmental and judicial bodies/authorities to the extent necessary.
In accordance with laws, rules and regulations and/or by order of any competent judicial authority
In accordance with laws, rules and regulations and/or by order of any competent judicial authority
To protect the company's rights or assets against fraud and credit risk .
Enforce the Company's Terms of Service (of which this Privacy Policy is also a part)
When the Company, at its discretion, considers it necessary to protect its rights or the rights of others
The Company may make all User Information accessible to its employees and data processors/third party vendors only on a need-to-know basis and for the purposes set forth in this Privacy Policy. The Company takes adequate steps to ensure that all employees and data processors/third-party vendors, who have access to and are associated with the processing of user information, respect its privacy and that such data processors/third-party vendors follow the security practices and procedures required under applicable law. At least that takes a reasonable level. However, the Company does not disclose information obtained through the Marketplace Application Programming Interface, individually labeled or aggregated From a user to other users or any third party, unless required by law.
Non-personal information may be disclosed to third-party ad servers, advertising agencies, technology providers and research companies to provide users with non-targeted advertising. The Company may also share its aggregate results (without identifying information) on a non-personal basis with potential customers, investors, strategic partners, merchant sponsors and others. Helping companies grow their business.
We may also disclose or transfer user information to another third party as part of a reorganization or sale of assets or business. Any third party to which Company transfers or sells its assets has the right to continue to use the personal data and/or other information provided to us by the user in accordance with this Privacy Policy.
Customer Information Protection
In order to provide the Services and for other purposes specified in this Privacy Policy, we must collect and host certain information about users. We are committed to protecting your personal information, and to that end the Company implements reasonable security policies and procedures to implement technical, operational, administrative and physical security controls to protect the personal information in our possession against loss, misuse and unauthorized access, disclosure. , change and destruction. Although we do our best to provide industry standard security, due to the inherent vulnerabilities of the Internet, we cannot guarantee or warrant the complete security of all information sent to us.
The Company implements appropriate measures to ensure that third parties to whom Personal Data may be transferred implement at least an acceptable level of security practices and procedures required by applicable law to ensure the security of Personal Data
You hereby acknowledge that the Company shall not be liable for any information transmitted over the Internet that is intercepted under our control after you have adopted reasonable security practices and procedures, and you release us from any and all claims arising out of or in connection with that. to use intercepted information without permission
Registration Eligibility
You represent and warrant that you are over 18 years of age and eligble to enter into a legally binding agreement and be bound by these Terms.
If you represent a Corporate Entity i.e. Company, Partnership Firm etc.,you expressly confirm that you are duly authorized on behalf of the entity to enter into the Agreement, access the Services and avail of the features and facilities.
You must provide your full legal name, current address, a valid email address, and any other information needed in order to complete the signup process.
Account & Registration Responsibilities
You are responsible for keeping your password secure. Instaship will not be liable for any loss or damage from your failure to maintain the security of your account and password.
You are only owner of the login creditential and you will be responsible for the consequences arising out of disclosure of the Password and/or consequential unauthorized use of the material or content on the Website.
Services
We are aggregators of Logistics services Provider, user ship their consignment through our platform to multiple location, without having tie up with multiple courier & logistics service provider
Fees and Charges
We don't charge for signing up & accessing our website. The Company's Services through the Website are chargeable, and the Company reserves the right to charge fees and change its policies from time to time. Any change in any policy of the Company may be provided at any time by posting the changes to the Website or via an announcement via an email to the registered email ID of the User account.
Intellectual Property Rights
All content included on the Platform, including but not limited to, text, graphics, logos, designs, photographs, button icons, images, video clips, digital downloads, data compilations etc., is Our property and is protected by the Applicable Laws with respect to intellectual property rights. We reserve the right to terminate Your engagement with Us, if We, in Our sole and absolute discretion, believe that You are in violation of this Clause.
Indemnity
You will be obligated to indemnify us for any loss or damage that arises from claims or allegations by third parties, or related to your activity on the Platform and/or for your violation of these Terms of Use.
Restricted Product
The User shall not, directly or indirectly, offer, attempt to offer, trade or attempt to trade in any item, the dealing of which is prohibited or restricted in any manner under the provisions of any applicable law, rule, regulation or guideline for the time being in force.
Without prejudice to the generality of the above, the Company does not permit Services of following items:
Securities" within the meaning of the Securities Contract Regulation Act, 1956, including shares, bonds, debentures, etc. and/or any other financial instruments/assets of any description. While this does not prevent a share broking firm to host its website with the Company, the trading of the shares through an e-store on the Website made available by the Company is prohibited.
Living, dead creatures and/or the whole or any part of any animal which has been kept or preserved by any means whether artificial or natural including rugs, skins, specimens of animals, antlers, horns, hair, feathers, nails, teeth, musk, eggs, nests, other animal products of any description the sale and purchase of which is prevented or restricted in any manner by applicable laws (including those prohibited under The Wildlife Protection Act, 1972). Weapons of any description.
Liquor, tobacco products, drugs, psychotropic substances, narcotics, intoxicants of any description, medicines, palliative/curative substances.
Religious items, including books, artifacts, etc. of any description or any other such item which is likely to affect the religious sentiments of any person.
"Antiquities" and "Art Treasures" in violation of the provisions of the Antiquities and Art Treasures Act, 1972("the Act").
Limitation of Liability
The Company M/S Shopingcart Retail Service will not be liable to you (under the law of contract) in relation to the contents of, or use of, or otherwise in connection with our website www.instaship.online
The Company will take as much as poosible precautions against security breaches , but no webpage or internet transmission is completely secure, and as such, the Company shall not be liable for any indirect, special, exemplary, or consequential damages that may result from unauthorized access, hacking, data loss, or other breaches that may occur
Rights of User
All information provided by the User to the Company, including sensitive personal data, is voluntary. The user has the right to withdraw consent at any time in accordance with this privacy statement and terms of use, but please note that withdrawal of consent is not retroactive.
Users may access, modify, correct and delete personal information voluntarily provided by the User and collected by the Company in accordance with this Privacy Policy and Terms of Use. However, if the User updates their information, the Company may retain a copy of the information that the User originally provided to the Company in the User Data documented herein. If the User wants to update or correct his personal data, he can exercise these rights by sending an email to the Company at customer-support@instaship.online and informing about the changes to update the Company's records.
If the user does not provide his data or consent to the use of personal data, or later withdraws his consent to the use of collected personal data, the company reserves the right to partially or completely terminate the services related to the functions and benefits mentioned
Cookies Policy
What are the Cookies?
Cookies are small text files that allow us to store information related to your search when you visit our website. Cookies help us determine how often our web pages are accessed. For more information, see the Wikipedia article HTTP cookies.
Announcement about cookies.
We currently do not use any cookies and if we use any cookie files on our website in the future we will definitely inform our users.
User can check as per below mentioned following procedure.
But When user login in our web panel with login page then php session function automatically create a cookie that name is "PHPSESSID" and this cookie will be expire when user exit by logout from our page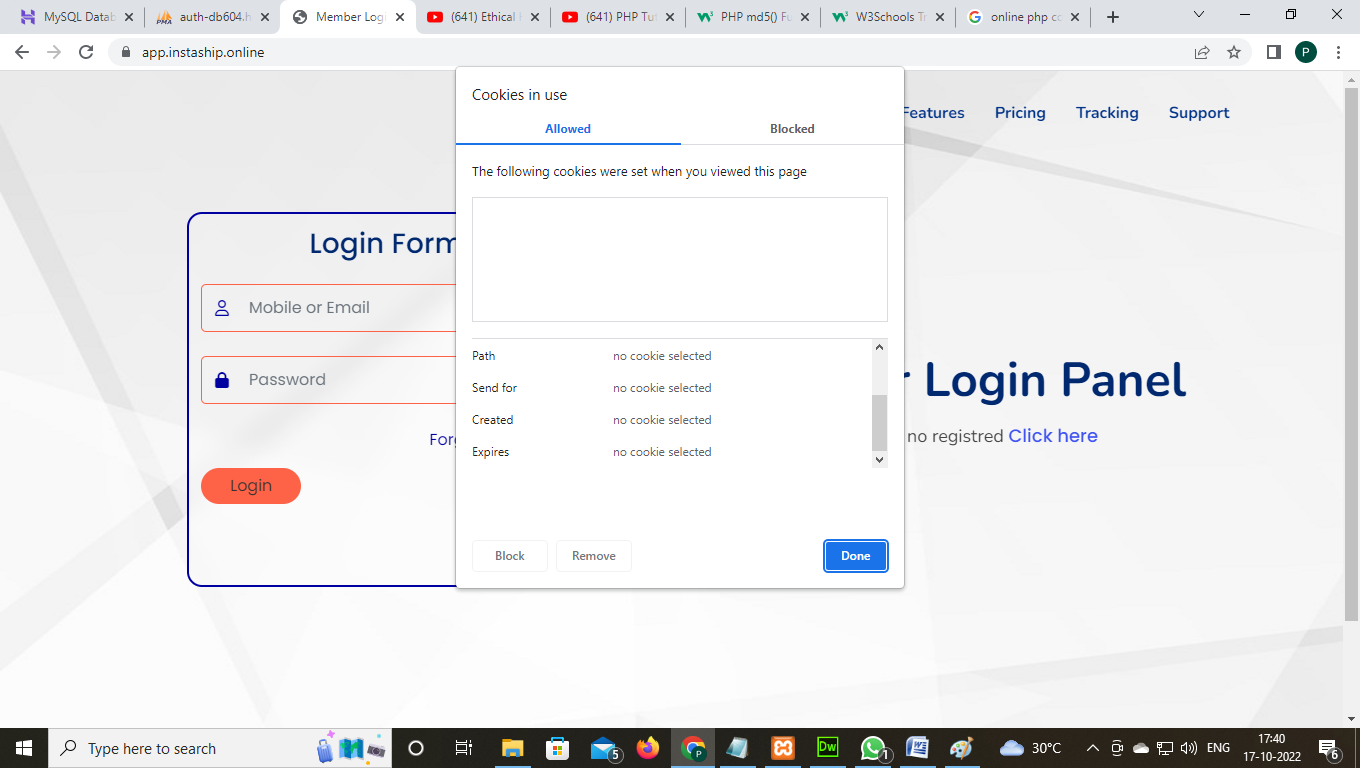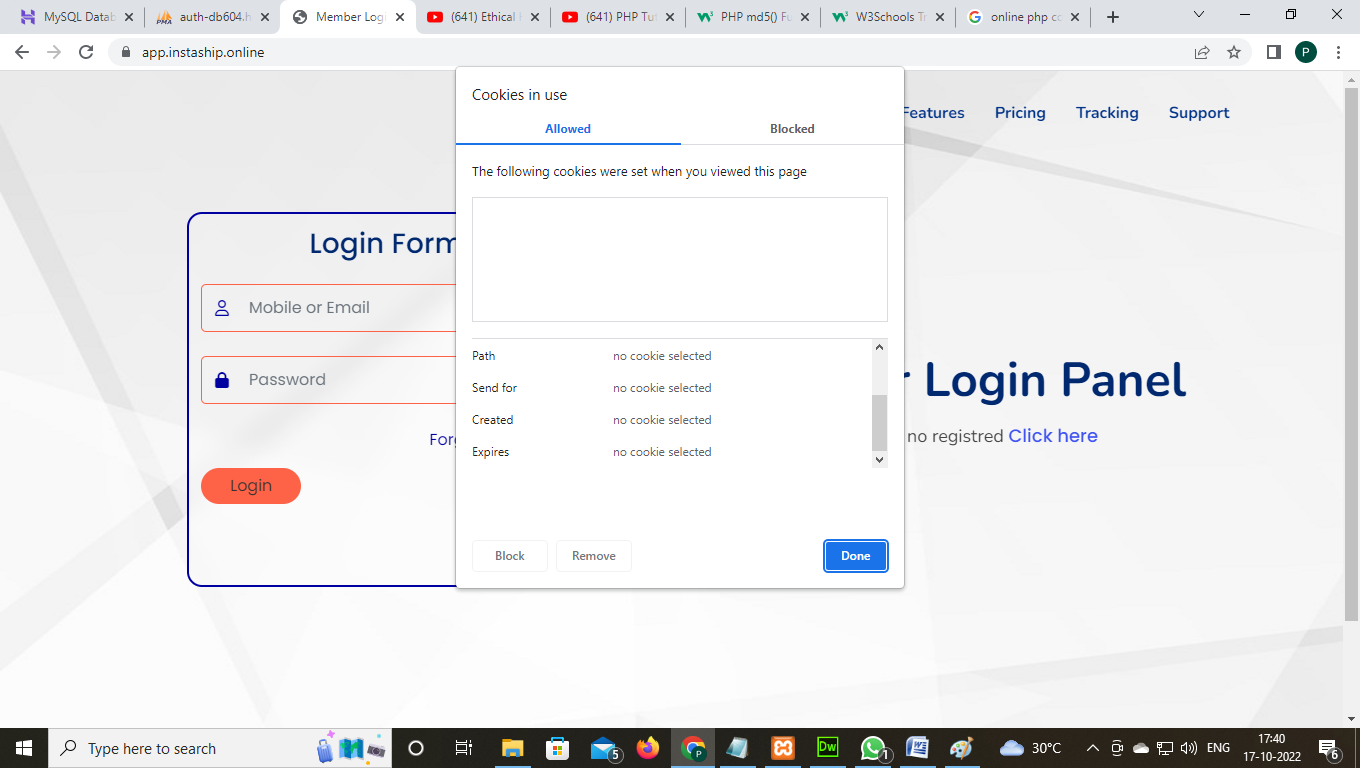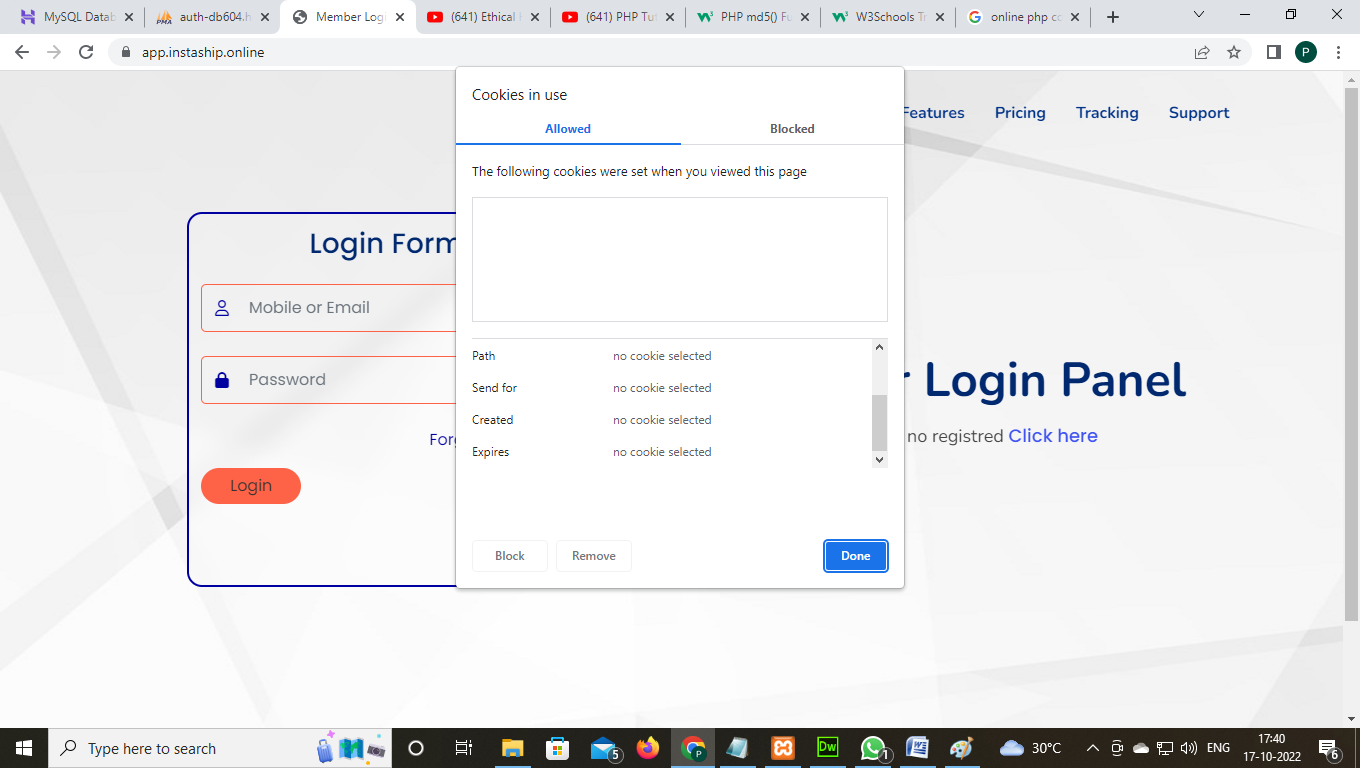 Governing Law
If any dispute arising between the parties and Us due to our policies or any other reason it will be settled only in the Court of Kolkata , India and the court decision will be final and binding for both parties.
This Agreement shall be governed only by the jurisdiction of the Kolkata High Court Only, India and governed by Indian law
Notification Change
We may change this Privacy Policy at any time and without notice, but only by changing this Privacy Policy on this website. Changes will take effect 30 days after they are posted on the website, unless circumstances require an immediate change.
Grievance Contact Person
For Any question about us or about our services , Please contact below mentioned contact detail.